For the past thirty-five years, Disability Associates has perfected our SSA Disability Advocate business system.  Our approach to disability case representation enables you to work from home with every advantage of an outside office without unnecessary expense.  Our training is comprehensive and designed to prepare you for the direct-pay certification examination.  An average of 88% of our students successfully passed the challenging direct-pay exam that can boost your income by 70%.  Our inexpensive and reliable Olivia software enables you to input, process, and control client cases without the need for face-to-face contact.  Our software also allows your staff to work from home, while you assign cases and remotely monitor their work.   Even your marketing and communications can be executed from home, allowing you to save thousands when compared to a traditional brick and mortar office.

Full Training Packages
Looking to extract the most bang for your training dollars?  All four blue box packages below come with training, software, and support.  These packages contain everything you need to start an advocacy service from home or office.  The first three of these packages also come with Payment Plans to reduce the strain on your budget.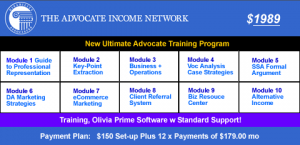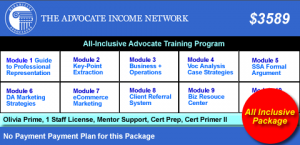 Module Training Programs


 Advocate Certification Prep
Preparing for Social Security certification?  We highly recommend our exclusive Certification Prep course.  This detailed course covers all of the most important concepts used in the Social Security disability process.  This package includes access to our Exam Primer II testing software.  The interactive sample test within the Primer II will strengthen your understanding of the SSA disability process and help reduce test anxiety.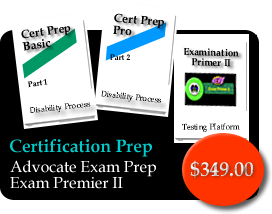 Staff Advocate Training
Need to expand your advocacy service?  Consider our cost-effective staff advocate training program.  Training your current staff can save your company thousands of dollars when compared to the cost of adding new professional staff.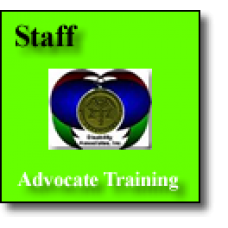 Case Management Software
Interested in low-cost high-efficiency Social Security case management software? Click:

 Get free advocate training with a three year Olivia subscription.
Get started today!  View All Training Options Here.